Spur wheels embedder $28.00 each
MSE145
---

European Style spur wheel imbeder long handle $23.50 each
DSE
Eyelets


Stainless Steel $25 per 1000 SWEB60
Brass $25 per 1000 BBEB1000
The SS eyelets suit our NZ made frames whereas the brass eyelets suit the Australian made frames, please check if unsure which you want.
---
Frame wire Tacks 50gm packet
$5.00
QBFT
---
Eyelet Punch

Eyelet Punch
$7.50 each
MEP180
Stainless Steel Frame Wire
$26.50 per Kilo Average spool size is around 2.5 - 3 kg
SSW
---
500gm rolls of Lega Stainless Steel wire
ECWSS500 $35
---
Small rolls of Stainless Steel wire.
Roll size is 500gms
$32
PBWSS500
Small rolls of Galvanised Wire
Wire 500gms
$16 per roll
PBWG500
---
12V Electric Embedder


Battery or power supply not included
(Colour may vary from photo)
Click here for larger image
REDEE $45
---

Plastic handle wire crimpers $22.00 each
SWWC

The plastic handle crimper is suitable for galvanised frame wire only.

---
Metal Wire crimper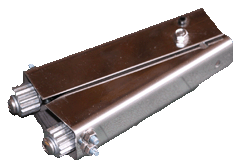 Click here for larger image
BBMWC
$58
The metal crimper is suitable for both
stainless steel and galvanised frame wire.