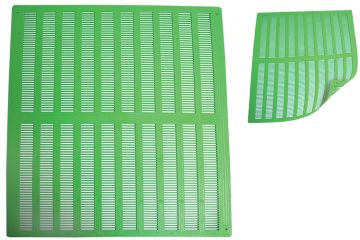 Propolis mat $12 each (Code BTPM)
Available in black only.
Made of tubular polyethylene for more flexibility. A more economical option for those interested in propolis collecting.
Propolis traps are an excellent way to harvest clean propolis from your hive and add extra income. Replace your inner cover with our plastic propolis trap. The bees will fill the grooves of the trap with propolis. To remove simply put the trap inside a plastic bag and freeze overnight. Twist or bang the trap inside the bag to release the propolis.
Note: Autumn is the typical peak propolis production time of year.
Compatible with 10 Frame equipment only.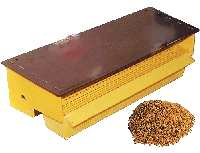 Pollen Trap for 10 frame beehive
$40 (Code SWPT)
The trap is placed in front of the entrance. When the bees enter the hive the pollen will be brushed off and fall into a tray. 
Width 372 mm, Height 90 mm
It does not fit all hive entrances. But if you mount it to the entrances and close the rest of the entrance off, the bees will go through the pollen trap.